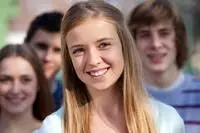 De-Stress Workshop 6 week series: Mindful Practices for Teens
(Incorporating Somatic Experiencing, Meditation, and Experiential Exercises)
Rev. Lynn Bourbeau, Somatic Experiencing Therapist, Educator, and Trainer

Experiencing Anxiety?

Feeling Overwhelmed?

Struggling in school?

Problems in relationships?

Lack of confidence?

Insecurities, peer pressure, confusion about goals, and family stressors are just some of the things that can impact your confidence and cause stress at a time when you least expected it. Let's help you make this year be filled with Clarity and Calm.

Somatic Experiencing is a mind/body approach that helps regulate the nervous system when it feels overwhelmed. As a Somatic Experiencing Therapist, I will draw on this model; incorporate mindfulness and relaxation skills to help you identify internal resources to calm your nervous system. You will learn effective tools that you can use to de-stress! This group will be a mixture of discussion and experiential exercises.


When: TBD

Times: TBD

Where: TBD




Contact: Lynn Bourbeau at (917) 596-4950 for more information and to register.

Rev. Lynn Bourbeau, SEP is a Certified Trauma Therapist, Trauma Educator and Trainer, Medical and Spiritual Intuitive, Reiki Healer, Shaman, Spiritual Counselor, and former Chaplain at NYC hospitals. She has trained and supervised hundreds of healthcare professionals in the Somatic Experiencing (SE ) trauma model. Lynn also runs groups on "Calming Your Nervous System" and other topics. She has a private practice in NYC and White Plains, New York.